Premium Australian-Made Stainless Steel Hot Water Tanks
Earthworker Energy Manufacturing Cooperative premium Australian-made hot water storage tanks use corrosion-resistant marine grade stainless steel for a long life, and come with a 15 year warranty. Ours are the only tanks available that use our distinctive patented recycled polymer casing, which acts as a 2nd layer of insulation – providing outstanding thermal performance, and making them famously sleek, rust-free, easy to transport and extra durable.
Choosing an Earthworker Energy hot water tank supports new energy manufacturing jobs in the Latrobe Valley.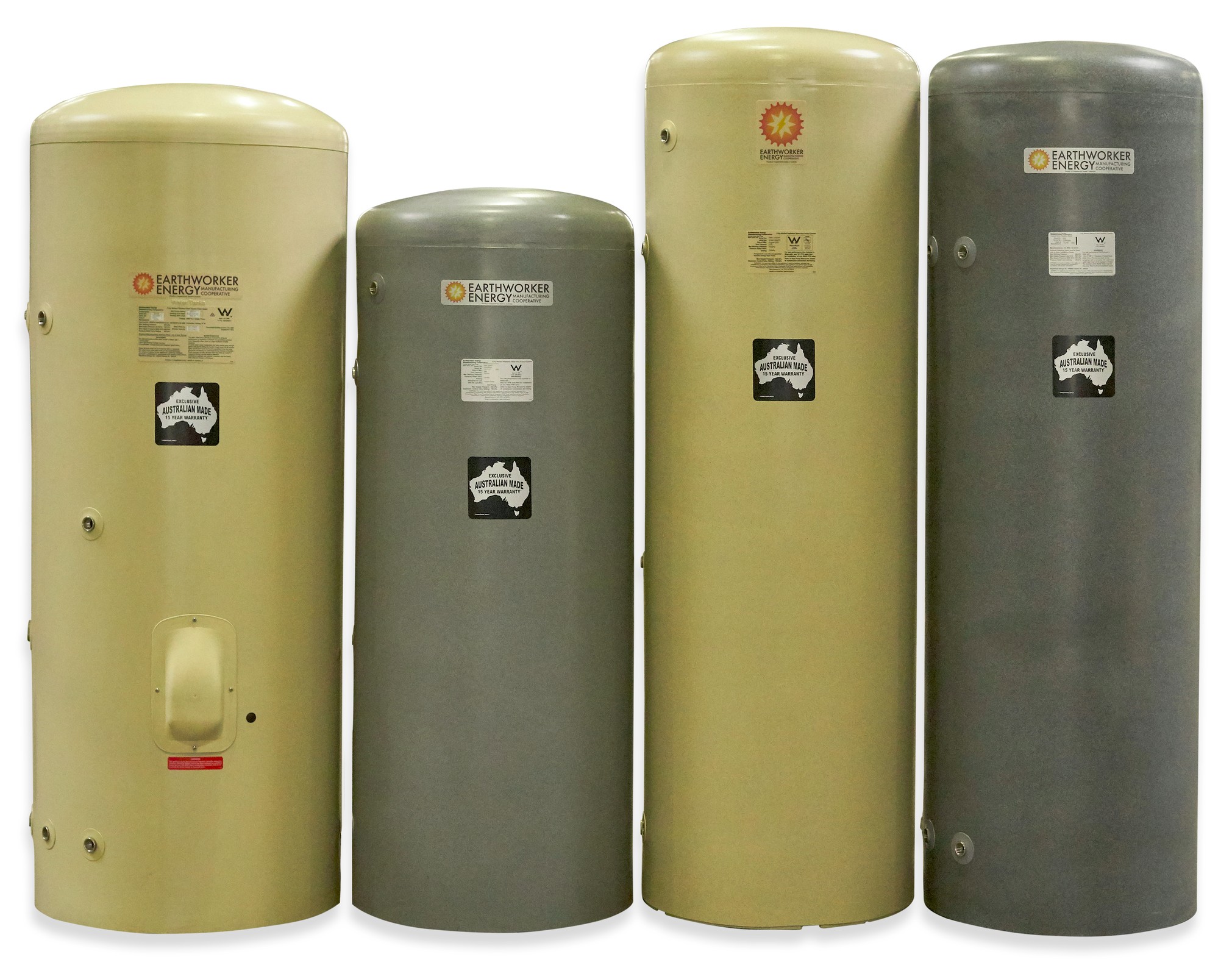 Marine-grade stainless steel cylinder for long life (no anode required)
15 year full warranty*
Unique recycled polymer outer case

provides extra insulation & durability
reduces plastic waste

Range of models & applications – Electric, heat pump, hydronic, and gas or electric-boosted solar designs available
'Solar Ready' – perfect for emergency hot water replacements and/or use with solar hot water systems
ValveCosy PTR Insulator included
Range of sizes: 160L, 250L, 315L, 420L
Available in Grey (100% recycled case) or Merino colour (15% recycled)

Cases with recycled content contain natural variation in colour/gradient

Internal heat exchange coils can be fitted for use with wet-back and water-jacket wood stove systems
Earthworker Energy Manufacturing Cooperative hot water tanks are available direct, or as part of a range of solar and heat pump hot water systems from Reclaim Energy, NeoPower, SolarArk and others.
Warranty does not apply in areas of poor or hard water quality. Details here.
| | | |
| --- | --- | --- |
| Tank Volume | External Diameter | Height |
| 160L | 620mm | 1140mm |
| 250L | 620mm | 1620mm |
| 315L | 620mm | 1990mm |
| 420L | 700mm | 1880mm |
All Ports are 20mm (3/4″ BSP)