Solar Hot Water Rebates
There are a number of different government rebates available for installing solar hot water and heat pump systems in Australia.
Rebates can significantly reduce the cost of your new system – in the case of our new CO2 Heat Pump & Tank Package, by up to $3,000*.
We can process these rebates for you when you purchase a system from us, for a small processing fee.
Request a quote to find out the best Earthworker Energy solar hot water system for you, and discover what rebates you're eligible for.
Alternatively, some customers like to claim rebates themselves:
Claiming your rebates for installing your new solar hot water system is a straightforward, but multi-step exercise. The government, in its quest to make sure that the rebates go to where they are meant to go, has created tight processes that must be adhered to if you wish to receive the money.
The plumber who installs your new solar hot water system can help you through the process – make sure you discuss this with them from the outset.
Solar hot water rebates available:
STC* Rebates are available Australia-wide for the installation of approved products
VEEC* Rebates are available in Victoria for the installation of approved products in certain conditions (eg. upgrading existing electric with heat pump or solar hot water)
The $1000 'Solar Victoria' Solar Hot Water Rebate is available in Victoria for the installation of approved products in addition VEEC and STC rebates
You may be eligible to claim 1, 2 or all 3 of these rebates, depending on your situation.
How to claim your rebate(s):
Firstly, own this process. It's not hard, just precise. Make sure you check what documentation and photos you need from the start of the process, and do yourself a favour – take some geo-tagged photos of your current system now.
For Solar Victoria $1000 Solar Hot Water rebate:

Follow the helpful step-by-step instructions at: www.solar.vic.gov.au/Solar-rebates/Solar-Hot-Water-Rebate
For STC & VEEC rebates:
Download and

complete

a

certificate and

rebate assignment

form from one of the

STC/VEEC

trading companies

(eg.

Greenbank, Renewable Energy Traders, Green Energy Trading, Hot Water Rebate, Trade in Green

).




Make sure you have read the form, and provide correct and accurate information.

A

ttach supporting documentation as required by the respective form.

For

both

STC and VEEC assignment forms, you will require:

Proof of installation in the form of Plumber's Compliance Certificate AND Electrician's Certificate of electrcial Compliance


Proof of purchase in the form of Invoice(s) pertaining to the supply and installation costs of the SWH unit

Proof of address (eg. in the form of Rates Notice or utility bill)


Photo of product serial number

Additionally, for VEEC assignment forms you will

also

require:

Geo-tagged digital photos on-site of:

the electric hot water service being replaced, before removal

the electric hot water service being replaced, after decomissioning


the new hot water service installed

serial number of new hot water tank

serial number of new heat pump/solar collector

Send the form(s) to the certificates trading company that you have downloaded the form from, and then they can process your payment.
*STCs and VEECs are tradeable certificates created when you install your new system. You redeem your rebate by selling these certificates through a registered STC/VEEC trading company. The number of STCs & VEECs your installation generates depend on your geographical location (rebate zone), and prices fluctuate day-to-day – both of these factors will affect the value of your final STC/VEEC rebate. The indicative rebate amounts provided above are estimates based upon a zone 4 regional installation at STC price of $36 and VEEC price of $18.
STC Zone Map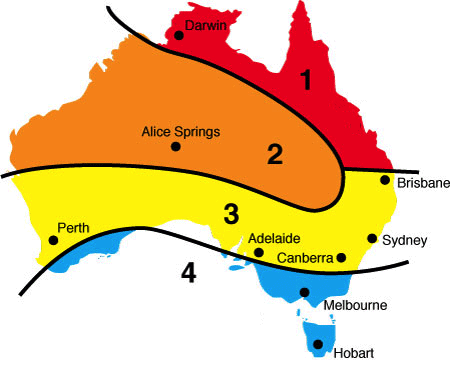 Eligible Earthworker Products:
A range of Earthworker solar hot water products, and products from other companies which incorporate Earthworker 'Made in Morwell' stainless steel storage tanks, are approved for government rebates. These systems are listed on the Clean Energy Regulator (CER) REC Registry and Victorian Essential Services Commission (ESC) Registered Products list, and include:
Earthworker /

Reclaim

Energy

CO

2

Heat Pump &

Tank Package


Model: '

REHP-CO2-315SSEW-V2' / 'REHP-CO2-250SSEW-V2

under 'Reclaim Energy' brand


STCs: ZONE 1 & 2 = 22 / ZONE 3

=

26 / ZONE 4 & 5

= 27


VEECs: Metro = 20 / Regional = 21


Earthworker Evacuated Tube Solar Hot Water

P

ackages




S

ee

individual

model

listings

under ''Earthworker' brand

E

dson

Domestic Hot Water

Heat Pump & Tank Package




(formerly Siddons Solarstream 'Bolt On' heat pump)

Various evacuated tube solar hot water systems

sold

with stainless steel tanks

(and branded) by Apricus, NeoPower, SolarArk, Endless Solar and other

companies

– see

individual

model listings under these respective brands and make sure to request a 'Made in Morwell' Earthworker Stainless Steel Tank if purchasing a system from these companies.
The model number and name of the solar hot water system you have purchased will be on your invoice.