Heat Pump Hot Water
Heat pump hot water systems provide all of your hot water needs cheaply & efficiently without the need for panels on your roof, or are the perfect compliment to solar PV as a 'virtual battery'.
Heat pump water heaters are an increasingly popular form of water heating, because they are ultra energy efficient, and perfectly coupled with solar PV to provide 'virtual 'battery' in what Beyond Zero Emissions recommends as 'the best value way of providing hot water in a zero-carbon Australia'.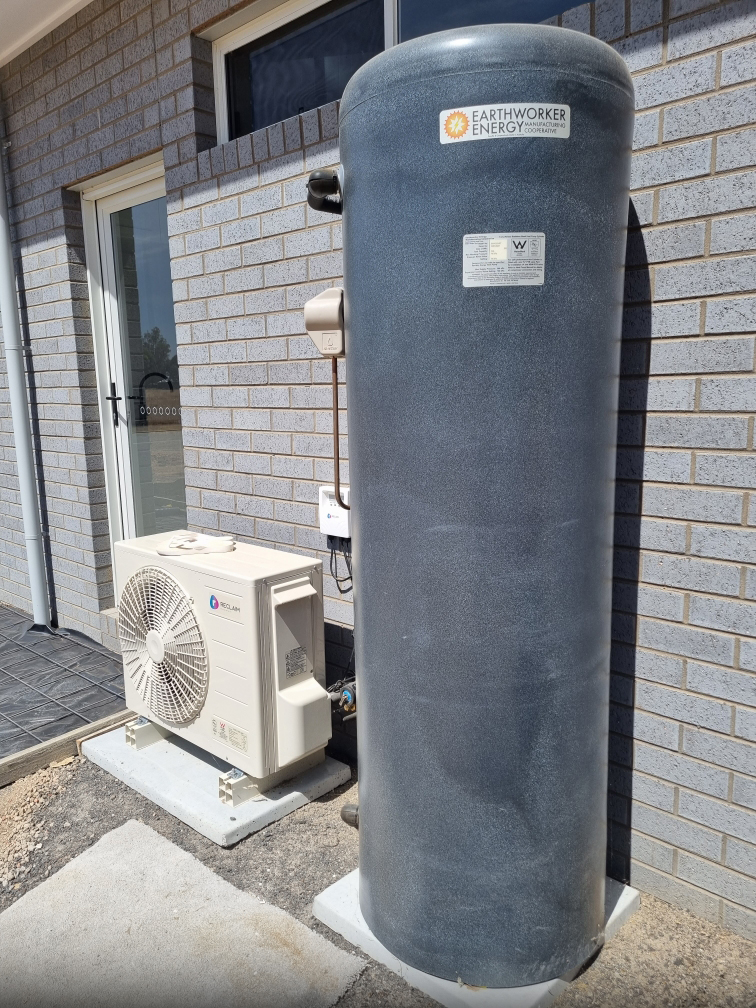 Dependable and User-Friendly
Featuring: a specially designed premium stainless steel tank, 'Made in Morwell' by the Earthworker Energy Manufacturing Cooperative (15 year warranty), coupled with a high-performing CO2 heat pump and user-friendly controller unit.
We're proud to now be selling accredited heat pump packages incorporating high-performing Reclaim Japanese-made CO2 refrigerant heat pump alongside our 315 or 250 litre tanks.
This heat pump is market-leading in terms of COP (performance), whisper quiet operation, and user-friendly controller unit – allowing customizable programming for optimisation with solar PV, and 1-shot-boost function which allows for rapid hot water heating even if you've depleted the hot water in your tank. Aside from our tanks, it is this controller unit which sets this system apart from the previously market-leading Sanden systems.
NEW – Wi-fi compatible smart controller now available!
These systems are designed to operate efficiently in cold climates.
They use on average 1.5-3kWh per day – around 80% less than standard electric hot water systems – operating on average for 1.5-3 hours per day.
The heat pump unit's dimension are (H x W x D) mm = 675 x 825 x 300.